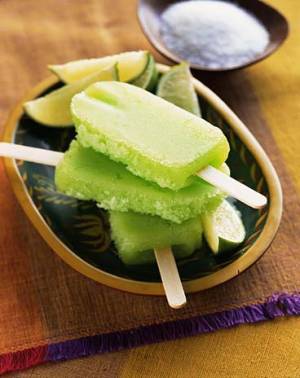 The smell of summer is in the air. As the sun hangs around a bit longer in the sky, the urge to linger in it's rays, and mingle with loved ones, fills my soul. This is the time of year for picnics and barbecues! For backyard parties and margarita's! As I was perusing through summer drink recipes for an up and coming friend visit, I came across Margarita Popsicles from Emeril Lagasse. They look fabulous, fun and refreshing!
Margarita Popsicles
- 3/4 cup sugar
- 3/4 cup fresh lime juice
- 1/2 cup water
- 2 tablespoons fresh lemon juice
- 2 tablespoons fresh orange juice
- 2 tablespoons tequila
- 2 tablespoons orange liquer (Emeril recommends Grand Marnier)
- kosher salt (garnish)
- 4 small cup (such as dixie cups), and 4 popsicle sticks
Combine sugar, lime juice, water, lemon juice and orange juice in a small saucepan over medium heat. Cook, stirring, until sugar dissolves. Remove from heat and allow to cool. Once cool, transfer to a blender with tequila, orange liqueur, lime wedge and process until smooth. Pour into the cups and cover the top of each cup with foil. Place the popsicle stick in the center of cup (down through foil, which will hold it in place). Freeze until hard, preferably overnight. Remove from freezer and run cup under warm water to loosen popsicle. Garnish with kosher salt and serve.
Recipe from FoodNetwork.com, courtesy of Emeril Lagasse